Home

>

D- Criss Cross Blocks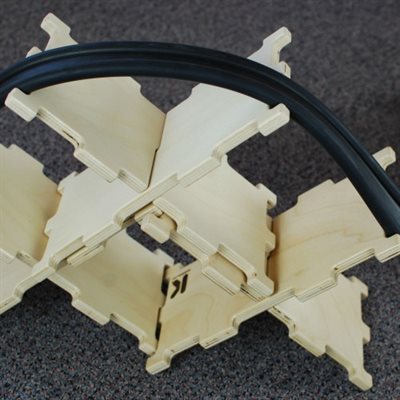 Press and move to zoom.
Mouse over image to zoom.
D- Criss Cross Blocks
Product Code:KOD450
The Kodo™ Criss Cross Blocks were developed as elevation pieces for theRubber Ramp and Discovery Ramps, but kids will also love to use them asstand alone builders. Abstract structures spring to life as childrenpair and combine all the pieces. They're also perfectly sized to workalong with classroom unit blocks to offer versatility and play value!Use them on their own as a construction set to make buildings,platforms, fences, bridges, and towers. Offer small wooden people,animals, and vehicles for even more imaginative play. Flip on its sideand a Criss-Cross block makes a terrific ball trap at the end of a ramp.Perfect for supporting fine motor development and increased spatialawareness, too! You will love them because pairs come apart so easily tostore flat. Criss-Cross Blocks are made from Baltic Birch. Recommendedcleaning: a damp cloth and do not use harsh chemicals.
Includes 6 small, 3 tall, and 3 wide pieces to make 12 crosses.Dimensions of flat pieces when not assembled: small pieces (5.5" x 6"),wide pieces (11.5" x 5.5"), tall pieces (6" x 11").

Quantity Available: 0
Availability: Items with zero or low stock can still be ordered and will ship 3-4 weeks after date of purchase
You may also be interested in