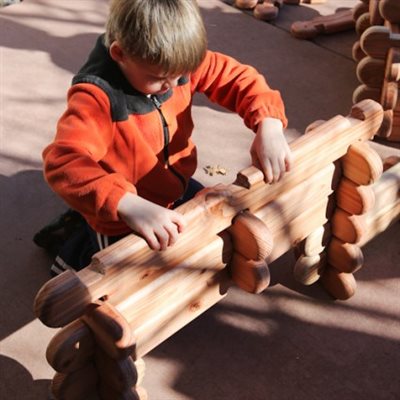 Press and move to zoom.
Mouse over image to zoom.
D- Timber Stackers
Product Code:KOD454
Timber Stackers is a set of 95 large scale construction pieces which canbe stacked to create amazing structures. They're simple to use;children just align the notches and create an amazing structure.Constructed of beautiful Redwood, Timber Stackers are strong but lightenough for children to move on their own. The three sizes offer varietyfor building walls, roads, bridges and of course, houses! Finally a newway to put construction and engineering into your outdoor classroom! Useindoors in your dramatic play space, large motor area or combine withother classroom builders such as hollow and unit blocks. Great for STEM.Timber stackers should be stored indoors, out of the elements. Setincludes: 57 small, 23 medium and 15 large pieces. (largest is 32.5inches long).

Quantity Available: 0
Availability: Items with zero or low stock can still be ordered and will ship 3-4 weeks after date of purchase