Home

>

Kore™ Everyday Plus Active Chair - Black Fabric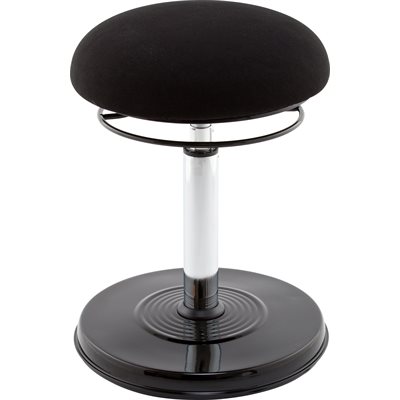 Press and move to zoom.
Mouse over image to zoom.
Kore™ Everyday Plus Active Chair - Black Fabric
Product Code:KOR182BK
Designed with a gently rounded bottom, Kore™ Wobble Chairs transform the boring conventional seat into a playground for your child's imagination. Regular chairs force children's bodies to conform to an unnatural posture. The innovative Wobble Chair allows one's knees, hips, and back to find comfortable and ever-changing positions.

Kore™ chairs encourage active sitting and exercise the very muscles that are at risk when sitting on normal chairs. Improve your sitting experience and enjoy the long-term effects of happier muscles, healthier body, and hungrier mind.

It is acknowledged that Active Sitting has many health benefits, and Kore™ stools exceed the need for active sitting. Kore™ patented design allows for a rocking motion while sitting. Continuous movement while sitting relaxes the right side of the brain. Active Sitting helps create "Secondary Focus" which increases productivity.

Adjusts from 18.5" - 26.75".

Seat Diameter: 14". Black, fabric.
Base Diameter: 15"
Black powder-coated stamped steel with vinyl cover.



Quantity Available: 0
Availability: Items with zero or low stock can still be ordered and will ship 3-4 weeks after date of purchase
You may also be interested in