Home

>

Cubelets Inspired Inventors Mega Pack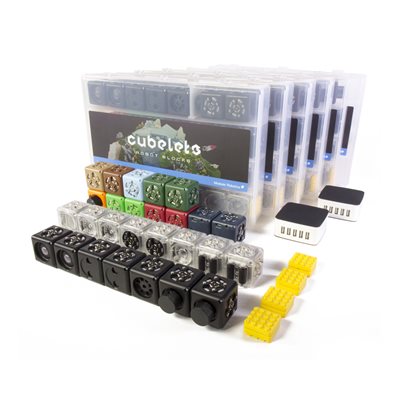 Press and move to zoom.
Mouse over image to zoom.
Cubelets Inspired Inventors Mega Pack
Product Code:MOD4444
The pack that has it all! Perfect for Makerspaces, classrooms, libraries, museums, and educators who recognize that kids love Cubelets and can't get enough of them. Born out of the Modular Robotics' team experience of watching thousands of kids play with Cubelets over the years, this set is intended to give individual learners and teams the chance to deeply explore the high potential of Cubelets.
The Cubelets Inspired Inventors Mega Pack is a colossal collection of robot blocks. Every group can leverage a collection that includes at least one of each type of Cubelet!
Includes 162 Cubelets:
12 x Battery
12 x Passive
12 x Inverse
12 x Blocker
6 x Bluetooth
6 x Threshold
12 x Distance
12 x Brightness
12 x Knob
12 x Drive
12 x Flashlight
12 x Rotate
6 x Bar Graph
6 x Speaker
6 x Minimum
6 x Maximum
6 x Temperature
Plus:
48 x Brick Adapters (12 sets of 4)
2 x 5-Port Chargers
10 x Charging Cables
6 x Storage Tubs
The Cubelets Blockly App: Learn to code with Cubelets! Blocky is the perfect platform to learn how to program your own robots. It's a simple and powerful visual programming tool that gives you full control over your Cubelets robot blocks. Create countless new robots and behaviours with the parallel programming. available for windows, MacOS, and iPad. Cubelets Blockly for iPad requires iOS 9 or newer.