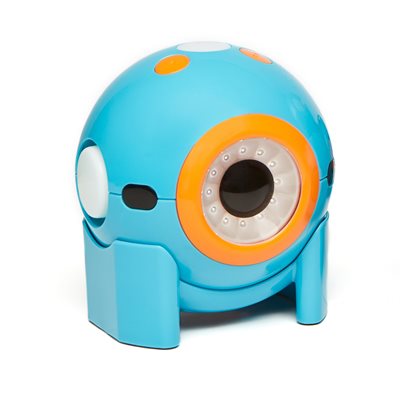 Press and move to zoom.
Mouse over image to zoom.
D- Dot Robot
Product Code:DSH002
Dot is the brains of a robot. Using free apps Wonder and Blockly, you get to see how Dot's games are created, and program over a hundred more of your own games. The apps come with puzzles to guide you through. Includes 1 Dot, 1 Charging Cord, and a Getting Started Guide.
Dash & Dot come with five free apps, and more are on the way! Wonder, Go, Path, Blockly, Xylo.
Blockly: Drag and drop visual programming tool for children as young as six. Take on coding challenges and make your own programs for Dash & Dot using Blockly. Transform Dot into an alarm, play tag with Dash, or use Dot to control Dash. Programming lets you turn your silliest or most ambitious ideas into reality
Wonder: Design behaviours and interactions for Dash & Dot. Wonder codes the way we think. Combining unstructured play with hundreds of in-app challenges, Wonder makes robotics a delightful experience for every child.
Path: Introduces children to simple sequences, events and sensors through a drag and drop interface. Program Dash to follow a path at the racetrack, on a farm, or in the big city! Unlock special abilities, sounds, and animations as you go forth and explore. When you finish the challenges, try creating your own stories and obstacle courses!
GO: It's your mission to teach Dash & Dot how to play. Send Dash on missions to deliver messages, use Dot to act out storybook characters, and go out and explore the world together.
Xylo: Conduct a musical performance for family and friends using Dash's Xylophone! Remake your favourite tunes or channel your inner Beethoven to compose your own songs from scratch.