Home

>

Bamboo Marble Run - 168 Piece Set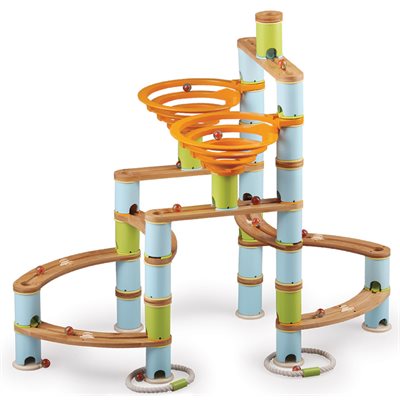 Press and move to zoom.
Mouse over image to zoom.
Bamboo Marble Run - 168 Piece Set
Product Code:FBT2172
Each set features hand-crafted, carbonized tracks, colourful bamboo cylinders, and sustainable wood powder spirals that deliver multi-functional fun with an infinite number of possible designs. Start small with the 78 or 119-piece sets featuring the basic towers, tracks, and one spiraling vortex each. Dive into the deep end with the 168-piece set where loads of pieces allow for endless possibilities. Or, get extra creative with the 127-piece set which features chimes that make music as the marbles roll this way and that. You can even combine all four of them to create the ultimate, bamboo marble-run metropolis! And don't worry if you can't get the creative juices flowing right away - Open up the instruction book included in each set and you'll find basic building concepts plus exciting tips and tricks that'll really get your marbles rolling.
Quantity Available: 0
Availability: Items with zero or low stock can still be ordered and will ship 3-4 weeks after date of purchase