Home

>

Math

>

Number Sense At-Home Learning Kit - K-2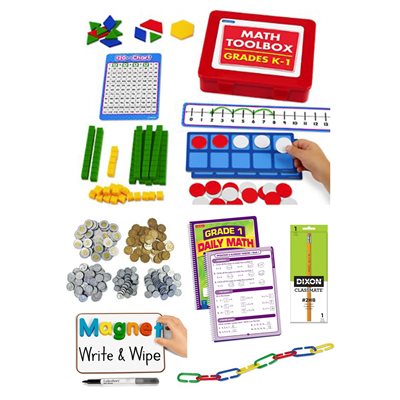 Press and move to zoom.
Mouse over image to zoom.
Number Sense At-Home Learning Kit - K-2
Product Code:WG100X
Our Number Sense At-Home Learning Kit provides a hands-on learning experience targeting key math concepts within the Kindergarten to Grade 2 curriculum. These manipulatives help children visualize and learn counting, base 10, comparing numbers, building shapes, patterning, money sense and more!
You will receive a write & wipe number line, a write & wipe 120-chart, 13 pattern blocks, base 10 blocks (10 tens rods and 25 ones cubes), 2 ten-frames and 20 double-sided counters, 10 coloured links and a plastic toolbox (6" x 7 1⁄4") for some added storage.
In addition, we have included our 82-page Daily Math Journal (Grade 1) for activities in number & operations in base 10, operations & algebraic thinking, measurement & data, geometry, word problems, math computation and problem solving.
Set includes:
Dixon Pencil
Daily Math Practice Journal - Gr. 1
Math Manipulative Toolbox - K-Gr. 1
Magnetic Write & Wipe Mini Boards
Write & Wipe Marker Thin-Line
Canadian Play Coins - Bag of 25 Coins
Math Links - Set of 10
Quantity Available: 3
Availability: In stock
This kit contains:
Dixon Pencil - Each

(x 1)

Write & Wipe Markers Thin-Line-Each

(x 1)

Canadian Play Coins - Bag of 25 Coins

(x 1)

Math Links - Set of 10

(x 1)

Free Resources for At-Home Learning Kits!

(x 6)