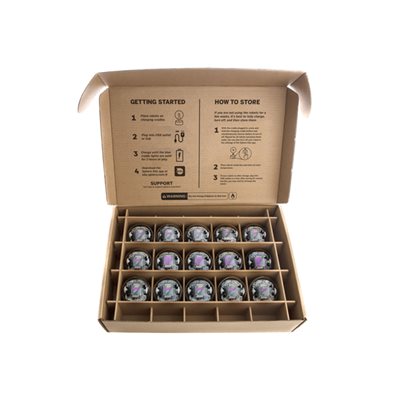 Press and move to zoom.
Mouse over image to zoom.
Sphero BOLT 15 Pack
Product Code:ORB1450
Sphero BOLT is an app-enabled robotic ball that provides students with endless opportunities to be creative and have fun while learning. They can program with the Sphero Edu app from nearly any mobile or desktop device, discover awesome community-created activities, or just drive and play. BOLT was built to shine with a brilliant 8x8 LED Matrix that animates and displays real-time data. Students can create and customize games and learn to code by drawing on their screens, using Scratch™ blocks, or writing JavaScript text programs.
Students can use advanced sensors to keep tabs on BOLT's speed, acceleration, and direction, or orient and drive BOLT with the built-in compass. BOLT also features infrared communication, allowing a student's robot to "communicate" with other BOLTs, enabling brand new games and advanced coding tactics. Equipped with Bluetooth SMART and a durable, waterproof shell, Sphero BOLT establishes a striking new way to learn and play.
The
Sphero BOLT 15 pack
contains everything you need to get started teaching robotics, the fundamentals of programming, and then some. This special pack of 15 Sphero BOLT robots and charging cradles is available exclusively to educators with a built-in discount. Electrify your class, club, or program with BOLT and Sphero Edu and get started with a 15 pack.
What's in the Box
Sphero BOLT robots (15)
charging cradles (15)
USB cables (15)
stickers (124)
quick start guide
cardboard carrying box
Technical Specs for each Sphero BOLT
free app: Sphero Edu app compatible with iOS, Android, Kindle, Mac, Windows, Chrome
durable UV-coated clear plastic shell
Bluetooth Smart connection (100 foot range)
inductive charging (6 hour charge for 2+ hours of play)
height: 73mm | width: 73mm | weight 200g
top speed: 4.5 MPH
The App


Sphero Edu is the Sphero app for programming Sphero robots. From draw and drive commands to block-based or even JavaScript text programming, Sphero Edu focuses on learner progression. Accessible from almost any platform, you can program with your smart device or download the Chrome app.

Go beyond code by incorporating STEAM activities to complete with your bot. Join the growing community, share your creations to inspire and be inspired, and keep track of your class all in one place. Preparing for the future has never been so fun.


Quantity Available: 2
Availability: In stock