Home

>

Phylogenetic Tree Of Life Chart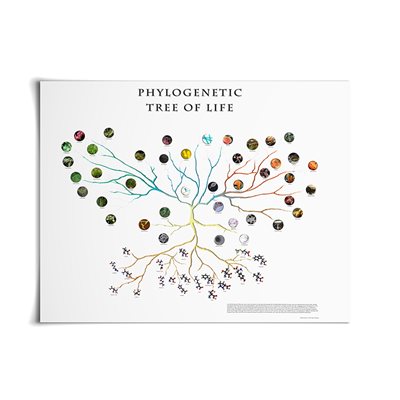 Press and move to zoom.
Mouse over image to zoom.
Phylogenetic Tree Of Life Chart
Product Code:ELC-4042
Dimensions: Control Chart 39 x 36 in. 99 x 92 cm. Mute Chart 39 x 36 in. 99 x 92 cm. Designed to complement the study of the kingdoms, the phylogenetictree of life shows the progression of life from amino acids through the development of the various kingdoms. The basic idea behind the tree of life concept is to show that all life on earth is related in an evolutionary context.Although the idea of a tree of life was originally described by Charles Darwin, it was not readily accepted until Carl Woese offered to refine the idea using genetic data to show that all organisms share common genetic patterns that can ultimately be traced back to a common origin.Includes: Control Chart Mute Chart Movable Pieces Control and mute charts are made from the same material (recycled plastic) that our timelines are constructed from so there is no need for lamination of the charts. Take a look at ourUpper Elementary Science Flow Chartto see how this work fits in with the traditional Montessori curriculum. Full colour charts with actual real life photographs to engage students.
Quantity Available: 1
Availability: In stock