Home

>

Fiction & Nonfiction Paired Passages-Gr 5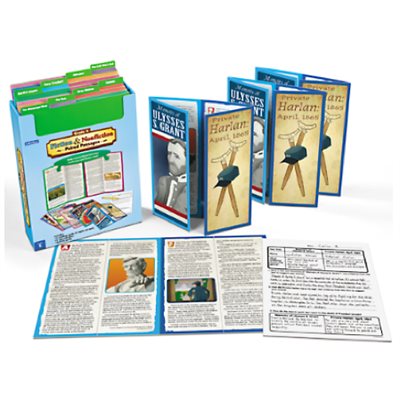 Press and move to zoom.
Mouse over image to zoom.
Fiction & Nonfiction Paired Passages-Gr 5
Product Code:HH154
What's fiction, what's fact, and how can fifth-graders learn to make connections between the two? Our reading folders each feature two high-interest reading passages—one fiction and one nonfiction—for students to read and compare side by side. Each centre comes with 8 different reading folders—perfect for deepening students' understanding of a topic…through different points of view! Plus, each folder features a reproducible worksheet on back…so students get practice identifying genres, using text evidence to support their answers, and drawing connections between fiction and nonfiction texts. Includes a total of 32 reading folders (4 copies of each) and a guide; in a storage box with dividers. Folders are 8 1/2" x 11".