Home

>

D- The Three Domains (2 pc. kit) Card Stock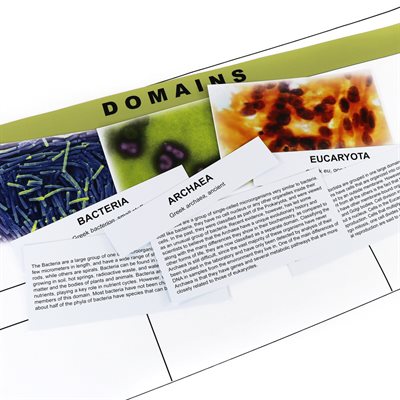 Press and move to zoom.
Mouse over image to zoom.
D- The Three Domains (2 pc. kit) Card Stock
Product Code:ELC-4072C
Take a look at our Science Flow Chart for Lower Elementary and that for Upper Elementary to see how this work fits in with the traditional Montessori curriculum The Three Domain Model was originally proposed by Carl Woese in 1990. Beginning with the early 1980 there was a move by some scientists to redefine the kingdoms to be monophyletic groups, groups made up of relatively closely related organisms. Carl Woese took the Prokaryota Kingdom and divided it into two new kingdoms: The Eubacteria Kingdom, and the Archaeobacteria Kingdom. Recently Cavalier and Smith further divided the kingdom Protoctista into two new kingdoms thus proposing the Seven Kingdom Model. However, this new model has not been accepted by many scientists. It is still under debate and additional research is needed before we can accept this new model.