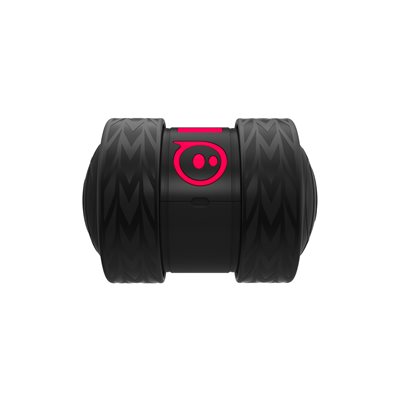 Press and move to zoom.
Mouse over image to zoom.
Ollie Darkside
Product Code:ORB750
Meet Darkside
Devious. Defiant. Diabolical. Dangerous. Few have the strength to command the dark powers bound within this robot. This is Darkside – an electrical beast that draws its energy from unrestrained competition and reckless abandonment. Command this app-enabled robot with these forces to unleash its unrivalled power. But take heed – the Darkside will overpower anything standing in the way of victory – including its master. You have been warned.
Darkside rolls at speeds of up to 14 mph and connects instantly to your device via Bluetooth SMART with a range of up to 100 feet. Turn on a dime with Nubby Tires or take them off to drift like a street racer. Darkside also comes with a bonus set of Turbo Tires and Flux Hubs so you can customize performance. Powered by USB charging, Darkside's LED's glow in customizable colours as it spins, drifts and flips with app-powered tricks.
WICKED FAST RACING
Command Darkside from your smartphone or tablet at speeds of up to 14mph. Darkside's durable shell means you don't have to worry about crashing and built-in LED's with customizable settings let you drive at night.
DIABOLICAL TRICKS
The Darkside app is built to let you pull off amazing tricks. Command Darkside with the joystick while you use the trick pad to spin, flip and discover hundreds of combinations.
CUSTOM TIRES AND HUBS
Darkside comes with two sets of removable tires and hubcaps so you can customize its look and performance. Put Darkside's tires on for extra traction and off-road driving or take them off for drifting on smooth surfaces.
What's in the Box?
Darkside
2 Nubby Tires
2 Turbo Tires
2 Prime Hubs
2 Flux Hubs
USB charging cable
Quick Start guide
Free apps available on the App Store and Google Play
Tech Specs
iOS & Android compatible
Top speed of 14 mph (6m/s)
Durable polycarbonate body
LED glow with customizable color settings
Bluetooth SMART instant connection (100 foot range)
USB charging (over 1 hour of drive time on a full charge)
Driving apps: Ollie, Draw N' Drive
Programming apps: MacroLab, OrbBasic
Hackable and programmable internal robot
App updates that introduce new features and gameplay
Automatic firmware updates
Height: 4.7 inches / Length: 3.2 inches / Weight 8.5 ounces
WATCH THE VIDEO (15 seconds)