Home

>

SmartFelt Toys - My Little House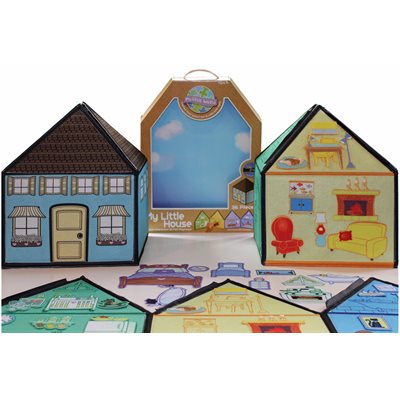 Press and move to zoom.
Mouse over image to zoom.
SmartFelt Toys - My Little House
Product Code:SMF1000
Invented by a Speech Pathologist, My Little House is an award-winning, multi-sensory felt book that can be laid flat like a four-panel felt board or converted into a reversible three-dimensional playhouse! All four panels have Velcro at the top and along the sides, allowing children to put the house together all by themselves.
My Little House is a fun matching activity that takes kids on a creative and unique adventure while promoting developmental language skills and increased vocabulary. The 37 felt pieces included with the house are colourful and vibrant. Each has been chosen by the SLP/inventor to address a specific early language concept.
The layout of the book is unique as well. Every element of the inside design of My Little House is one of purpose and intention – from the colour of the apples in the kitchen to the different sizes of fish swimming in the fish tank. (Flat: 15" x 13" x 2" Assembled: 13" x 13" x 15")
Use My Little House as a:
platform for propelling communication
facilitator for promoting conversation and dialogue
tool for language development
stage for social/emotional growth
My Little House promotes:
receptive Language input through introducing new words, gestures, and stories
non-verbal skills
focus and attention
visual attention and processing
sounds
social skills
size/shape
expressive Language output by encouraging children to tell tales and share feelings
writing
describing
narrating
comparison
memory & recall
object recognition and identification
grammar
answering questions.
Quantity Available: 2
Availability: In stock