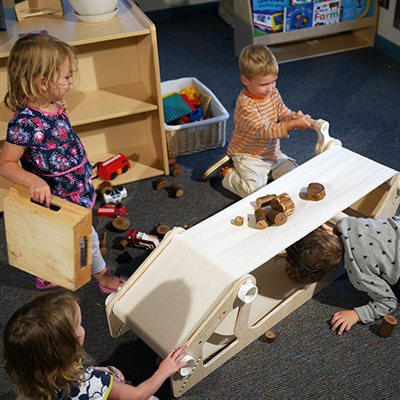 Press and move to zoom.
Mouse over image to zoom.
Kodo Kids™ Conveyor
Product Code:KOD915
The Conveyor is a kid-powered kinetic machine. Kids crank the handle to move the belt and immediately see results of their effort. Designed to get your children thinking about mechanics and moving parts. Children are intrigued by the properties of various materials as they move along the belt. As they crank the handle certain shaped objects move while others just roll in place. Turn the handle in one direction, the belt moves to the right, turn in the other direction and the belt moves to the left, how curious! Child powered motion equals hands-on learning. Place a bucket at the end or two Conveyors back to back for an engaging objective driven experience. Requires some assembly. Dimensions: 48"long, 24" wide and 12" tall.
Quantity Available: 0
Availability: Items with zero or low stock can still be ordered and will ship 3-4 weeks after date of purchase