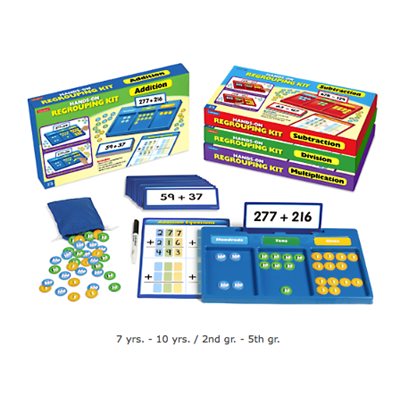 Press and move to zoom.
Mouse over image to zoom.
Hands-On Regrouping Kits-Set
Product Code:FF292X
Students master math with fun-to-use regrouping kits that make complicated problems easy to solve! Each kit includes a place value regrouping tray and place value coins…plus 40 self-checking problem cards. Students simply place a card onto the tray and use the colour-coded coins to visually represent the problem. Then students regroup the tiles and use the handy write & wipe activity mat to work out the answer. After solving, students flip the card over for easy self-checking! Complete set comes with all 4 kits shown (write & wipe markers not included), each with a guide. Develops skills in operations & algebraic thinking, number & operations in base 10, place value, regrouping and using tools strategically. Each kit also available separately. 
Quantity Available: 0
Availability: Items with zero or low stock can still be ordered and will ship 3-4 weeks after date of purchase