Home

>

Kodo Kids™ Indoor Magnet Wall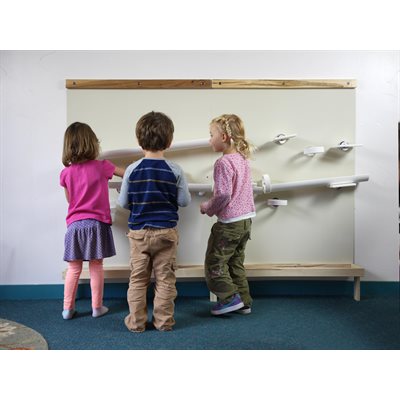 Press and move to zoom.
Mouse over image to zoom.
Kodo Kids™ Indoor Magnet Wall
Product Code:KOD110
The Kodo Kids™ Magnet Wall is a unique platform for expanding creative play. Examine slope, cause & effect, momentum and gravity through hands on experimentation! Very few products on the market offer a vertical play space that challenges children to deal with gravity in this way. Children arrange the rings as they wish to create vertical drop. Depending on the material of choice: water, balls, cars, or even sand, children will learn what slope is needed to move the material down the ramp, through the cups or over the bridge. To be used indoors only.
The Magnet Wall Kit includes two 34" wide x 44" tall metal panels where the children can stick, unstick and move magnetic rings which hold ramps, cups, tubes, and many other interactives.
The easily mountable wall comes with:
6 qty rings
4 qty deli cups with lids
4 qty walls
4 qty ramps with magnets
2 qty ramps with out magnets
10 qty 1.5" wood balls
10 qty 1.75" wood balls
10 qty 2" wood balls
Two panel kit measures 68" wide by 44" tall.
.