Home

>

STEM Science Stations - Complete Set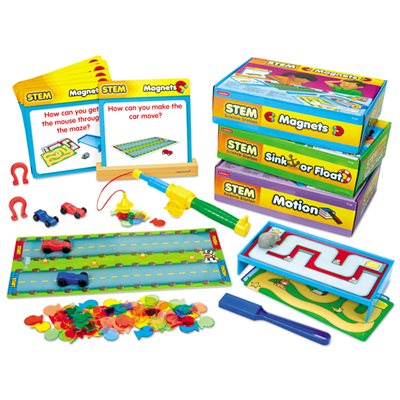 Press and move to zoom.
Mouse over image to zoom.
STEM Science Stations - Complete Set
Product Code:TT155X
With our innovative STEM Science Stations, children explore magnetism, motion and buoyancy—as they complete hands-on experiments and engineering activities! Each station includes 8 cards that prompt students to perform simple experiments…and comes with all the hands-on materials to complete each one. Plus, each station features an engineering activity to extend the learning—and build critical-thinking and problem-solving skills! You get all 3 stations, each with a guide and a wooden stand to display the 8" x 8" activity cards. Covers motion, magnets and sink or float/buoyancy.
Develops skills in exploring magnets, exploring buoyancy, exploring motion, using scientific inquiry skills, and using tools for observation and investigation.
Quantity Available: 0
Availability: Items with zero or low stock can still be ordered and will ship 3-4 weeks after date of purchase