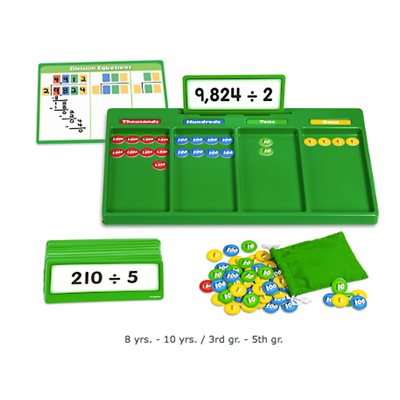 Press and move to zoom.
Mouse over image to zoom.
Division Regrouping Kit
Product Code:FF294
Children master division skills…with a fun-to-use regrouping kit that makes complicated math problems easy to solve! Our kit includes a regrouping tray with 85 place value tiles representing ones, tens, hundreds and thousands—plus 40 self-checking problem cards that feature 2-, 3- and 4-digit numbers. Children simply place a problem card onto the tray, then count out place value coins to solve the problem. We've even included a handy write & wipe card that lets children record their work. Develops skills in fluently dividing within 100 and finding quotients with up to four-digit dividends and one-digit divisors. Plastic tray measures 8 5/8" x 14 1/4".